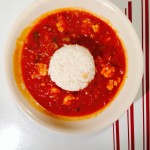 Shrimp Creole
This is the best version of Shrimp Creole I've ever tasted. A perfect dish for Fridays during Lent! This recipe is adapted from Rouse's magazine. To devein shrimp, run a small knife down the back and then remove the veins and rinse. Making a roux creates a particularly rich tomato-based dish. Enjoy!
INGREDIENTS:
4 tomatoes, blanched, seeded and chopped
2 tablespoons salted butter
2 tablespoons flour
2 cups Guidry's mix (yellow onion, bell pepper, celery, green onion, parsley, garlic)
2 teaspoons salt
½ teaspoon cayenne pepper (or more to taste)
1 teaspoon paprika
3 cups seafood stock
1 pound shrimp, peeled, deveined
1 cup white rice, cooked
STEP BY STEP:
1) Blanch the tomatoes in boiling water—about 1 minute. After the outer skin breaks, peel and seed them. Then chop and set aside.
2) Make a roux. Heat the butter in a heavy-bottom saucepan over medium-high heat. Add the flour and stir constantly until you achieve a dark brown color.
3) Add the Guidry's mix to the roux. If you don't live in Louisiana and can't find Guidry's, finely chop a yellow onion, two stalks of celery, half a green pepper, two cloves of garlic, and a tablespoon of fresh parsley.
4) Add the four blanched and chopped tomatoes.
5) Cook these vegetables in the roux for about 10 minutes.
6) Reduce the heat to medium and add the tomato paste, salt, cayenne, and paprika. Allow the mixture to simmer for five more minutes.
7) Add 3 cups seafood stock and bring to a low boil for about 20 minutes
8) Meanwhile, prepare the rice.
9) Add the shrimp and simmer for ten minutes longer, or until shrimp are pink.
10) Place a portion of rice into a shallow bowl and surround with the shrimp creole. Garnish with chopped parsley.