This time of year, this soup is a delightful indulgence, which carries all the tastes and smells of a summer garden. My family's recipe for the cold soup was lost a long time ago, but I've adapted a modern one to meet my needs.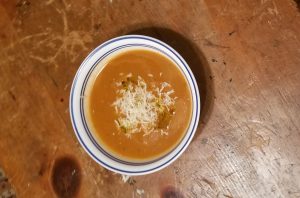 Some people strain their soup, but I think that would puree the mixture so thoroughly that such a step is irrelevant. I used our famous "Creole tomatoes" for this dish as well as a locally grown cucumber. Creole tomatoes are grown in New Orleans, in rich alluvial soil. Adjust as needed to suit your environment—and your taste buds.
INGREDIENTS:
2 pounds ripe red Creole tomatoes, cored and cut into chunks
1 Italian frying pepper (I used Anaheim), cored, seeded, and cut into chunks
1 cucumber, peeled and cut into chunks
1 small red onion, roughly cut into chunks
2 cloves garlic, minced
1 ½ teaspoons sherry vinegar
2 teaspoons salt
½ cup olive oil
STEP BY STEP:
Cut everything and put it in a blender. Blend at high speed until super smooth.
With the motor running, add the sherry vinegar and 2 teaspoons salt. Slowly drizzle in olive oil.
Now the mixture is pretty emulsified—like salad dressing.
Transfer to a glass pitcher and chill for at least 6 hours or overnight.
Adjust the flavor with salt and/or sherry vinegar before serving.