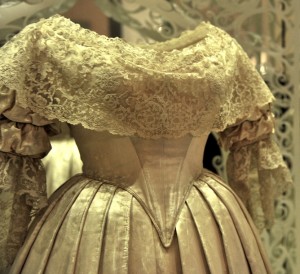 Mary Reporting. The glossy covers of magazines devoted to brides display one white wedding dress after another as wedding season 2014 approaches. Most brides today follow the tradition of a white dress, be it long or short, straight or full, strapless or sleeved, with or without a train.
We owe the white wedding dress, for better or worse, to Queen Victoria.
Prior to 1840, some wealthy brides chose white, but most women did not. With no good bleaches available, the difficulty in cleaning such fabrics for later use made the cost prohibitive. Generally, women wore their wedding dresses many times after their marriage. Oliver Goldsmith's comment in 1766 is often cited as proof of a gown's longevity: "I … chose my wife, as she did her wedding gown, not for a fine glossy surface, but such qualities as would wear well."
For centuries women married in any color dress they chose, from pastels to red to the practical colors of black, brown or gray.
European royals favored brocades woven with silver or gold threads. As most of these marriages were alliances made between households for money and power rather than love matches between a male and female, these rich fabrics suited the marriage ritual perfectly.
Queen Victoria's marriage was a love match. She was not a simpering princess marrying the third son of a king. She was the Queen of England and had been on the throne for several years when she married her first cousin, Prince Albert of Saxe-Coburg and Gotha, on February 10, 1840.
It was her dress that made a political statement. She wore a heavy silk-satin in white, an unusual choice. But the fabric, woven in Spitalfields, east London, was the ideal background for yards and yards of hand-made lace.
At this time, the industrial revolution with its machine-made laces had nearly destroyed the hand-made lace industry in Britain. Unemployment in the textile industry ran high. Queen Victoria's dress featured a lace flounce on the bodice, lace sleeves and a lace-trimmed hemline, all hand-made in Honiton, in Devon.
Widely distributed engravings of the wedding dress inspired imitation. Soon very elite English brides chose white dresses and Honiton lace, just as Victoria hoped they would. When Victoria's daughter, Victoria the Princess Royal, married in 1857, and her daughter-in-law, Alexandra of Denmark, wed in 1863, both wore white wedding dresses, further popularizing the fashion.
By the end of the century, a rising middle class in England, America and on the Continent could afford white dresses and lace. These brides enjoyed nothing more than emulating the British royal family.
The most common image we have of Queen Victoria is in black garb because she mourned her beloved husband for the last 40 years of her life.  But perhaps we should remember her for her daring choice in 1840 when she set the style of white wedding dresses.
Photo by ser_is_snarkish under licensing agreement. http://creativecommons.org/licenses/by-nc-nd/2.0/ Photo cropped for use.
To see British royal wedding dresses dating back to 1816, visit: http://www.hrp.org.uk/MediaPlayer/ViewPlaylist.aspx?PlaylistId=125