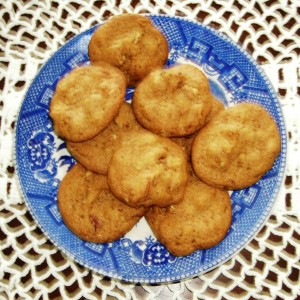 When you yearn for a pecan praline, but can't make a batch because it's raining, and you've lived in New Orleans long enough to know what humidity does to a candy recipe, don't despair.
Turn to Chunky Pecan Praline Cookies. These are easy to make—in any weather. You'll enjoy both the brown sugar taste and the crunch of pecans.
Recipe makes two dozen cookies.
INGREDIENTS:
½ cup unsalted butter (1 stick)
1 ½ cups dark brown sugar
1 large egg, lightly beaten
1 teaspoon vanilla
1 ¼ cups flour
¼  teaspoon baking soda
¼  teaspoon salt
1 ½ cups pecans chopped into chunks
STEP BY STEP:
1)   Preheat oven to 325 degrees.
2)   Chop pecans into chunks. Spread in a single layer on an ungreased rimmed cookie sheet. Toast for 4 to 5 minutes at 325 degrees until fragrant. Watch carefully and jiggle the pan. These burn easily.
3)   Cream butter and brown sugar in mixing bowl
4)   Beat egg lightly and add to butter/sugar mixture.
5)   Add vanilla.
6)    Mix flour, baking soda and salt together.
7)    Stir into batter.
8)    Add pecans.
9)    Cover mixing bowl and put in refrigerator for at least 30 minutes.
10)  Drop cookies onto a cookie sheet lined with parchment paper or onto a greased cookie sheet. Bake  for 8 to 10 minutes until bottoms are browned.