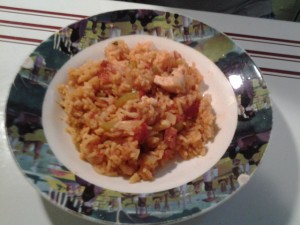 The term jambalaya, essentially a stew of rice and fowl somewhat like Spanish paella, was first mentioned in a poem in 1837. Though its origins are hazy, the term comes from jambon, the French word for ham, and the term yaya, a African word for rice.
Like gumbo, no two jambalayas are the same. The dish can be made with any combination of ham, chicken, sausage, pork, shrimp, and/or oysters, and New Orleans' cooks spend years perfecting the mixture of seasonings.
This delightful rendition, sans seafood, can be prepared quickly and is guaranteed to please diners of all tastes. The Jambalaya Festival, held every May in Gonzales, Louisiana, features a cook-off, where chefs compete with their best versions. For more information, visit: http://www.jambalayafestival.org/
INGREDIENTS:
6 ounces Tasso ham, diced*
1 pound boneless, skinless chicken tenderloins, chopped
8 ounces Guidry's seasoning mix (bell pepper, yellow onion, green onion, celery, parsley, garlic)
2 tablespoons butter
½ teaspoon black pepper
½ teaspoon Worcestershire Sauce
Couple of dashes liquid smoke
1 small bay leaf
½ teaspoon paprika
½ teaspoon ground thyme
1 teaspoon lemon juice
1 tablespoon brown sugar
1 teaspoon crushed red pepper flakes
1 ½ cups uncooked white rice
3 cups chicken broth
1 cup whole Italian tomatoes (canned)
*If you can't find Tasso ham, a South Louisiana specialty, any smoked ham or smoked pork will do.
STEP BY STEP:
1)      In a frying pan, brown ham in a saucepan, then add chicken and brown. Set aside.
2)      In a large soup pan, melt two tablespoons of butter with the Guidry's mix. Cook until soft.
3)      Add all the rest of the seasoning.
4)      Add meat back to the vegetable mix, plus 1 ½ cups of rice. Brown rice for a minute to get a nutty flavor.
5)      Add chicken broth.
6)      Add tomatoes.
7)      Bring to boil, cover and let cook 20-30 minutes.