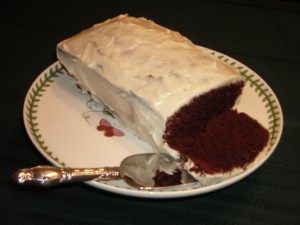 It's a shame most of us have given up real baking. If we dare to make a cake, it's likely from a  boxed mix. We promise this rich chocolate cake is easy and delicious. In its favor, too, is its size—one loaf pan. It's just the right amount to satisfy a chocolate craving without overindulging.
In When a Lady Loves, Maureen Collins agrees to chaperone a meeting between Vespasian Colville and the love of his life, the married Suzette Sauve. During a night of whist at her home, Maureen doesn't let the couple out of her sight.
"The moment Guy placed a tray of refreshments on a side table, Maureen saw Vespasian's eyes shift from Suzette to the chocolate loaf cake. He rose from the card table and helped himself to two slices and a glass of dessert wine. As he brushed past her, he whispered in her ear, "Under your watch, I'll not have Suzette tonight, so I must indulge my passion for sweets."
Like Vespasian, indulge your passion for sweets.
INGREDIENTS:
1 ½ cups sugar
½ cup butter
2 eggs
1 cup milk
2 cups flour
½ cup cocoa
1 teaspoon baking soda
STEP BY STEP:
1)      Grease and flour a 5 x 10 loaf pan. Preheat oven to 350 degrees.
2)      Cream butter and 1 cup sugar in mixing bowl.
3)      Add eggs and mix well.
4)      Add ½ cup milk alternately with flour, mixing well. Set aside.
5)      Cook ½ cup sugar, ½ cup cocoa and ½ cup milk over low heat until bubbles form.
6)      Add to mixture you've set aside and blend well.
7)      Add baking soda last and blend well.
8)      Pour into loaf pan and bake for 35 to 40 minutes until a cake tester comes out clean.
When cake cools, frost with Butter Cream Frosting. (See Angel's Food Cake recipe.) This cake is also delicious with no frosting. Serve with vanilla ice cream, a dollop of sweetened whipped cream or both.