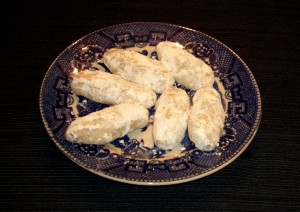 Mary reporting. It's time to begin baking holiday cookies. I've never had too much success with iced sugar cookies shaped like trees, bells or snowflakes. Too thick, too thin or burned on the bottom is the usual result in my kitchen.
Grandmere's Butter-Pecan Fingers are my favorite cookie to bake and eat this time of year. You may know these as Pecan Cocoons, Pecan Crescents, Russian Tea Cakes, Mexican Wedding Cookies or Southern Pecan Butterballs.
Grandmere shaped them into fingers rather than balls, so they baked through without burning. These cookies melt in your mouth. And they are coated in powdered sugar. In New Orleans, the land of the powdered sugar-coated beignet, we love these cookies.
INGREDIENTS:
1 cup unsalted butter, softened
1 ½ cups toasted pecans
¾ cup powdered sugar for dough
1 cup (approximately) powdered sugar for dusting baked cookies
½ teaspoon vanilla flavoring
½ teaspoon almond flavoring
2 ½ cups flour
Makes 3 dozen cookies
STEP BY STEP:
1)  Spread nuts in a single layer on a rimmed cookie sheet. Bake at 350 degrees for 5 to 10 minutes. Shake cookie sheet now and then and watch carefully so they don't burn. Remove from oven when they begin to smell fragrant. This extra step brings out the flavor of the nuts. Cool.
2)  Cream softened butter and add ¾ cup powdered sugar.
3)  Add ½ cup flour.
4)  Stir in flavorings.
5)  Work in remainder of flour. Batter will be stiff.
6)  Chop cooled pecans and mix in.
7)  Shape into 2-inch-long fingers.
8)  Bake at 350 degrees on parchment-paper lined cookie sheets for 18 to 20 minutes until brown on bottom and beginning to brown on edges.
9)  Cool 10 minutes. While still warm, coat with powdered sugar. Place about a ½ cup of sugar at a time in a plastic baggie and shake cookies one at a time until each is well coated in sugar.